Stuffed peppers remind me so much of childhood. It is a dish so often cooked in Croatia during summer. But it is a different kind of a dish, with sauce often eaten with potato puree. But peppers can be stuffed almost with anything, so I like using chicken with different vegetables and often beans. But feel free to deviate in ingredients if there is something on the list that you currently don't have in your kitchen or add something if you think it would be appropriate. Nothing can go wrong.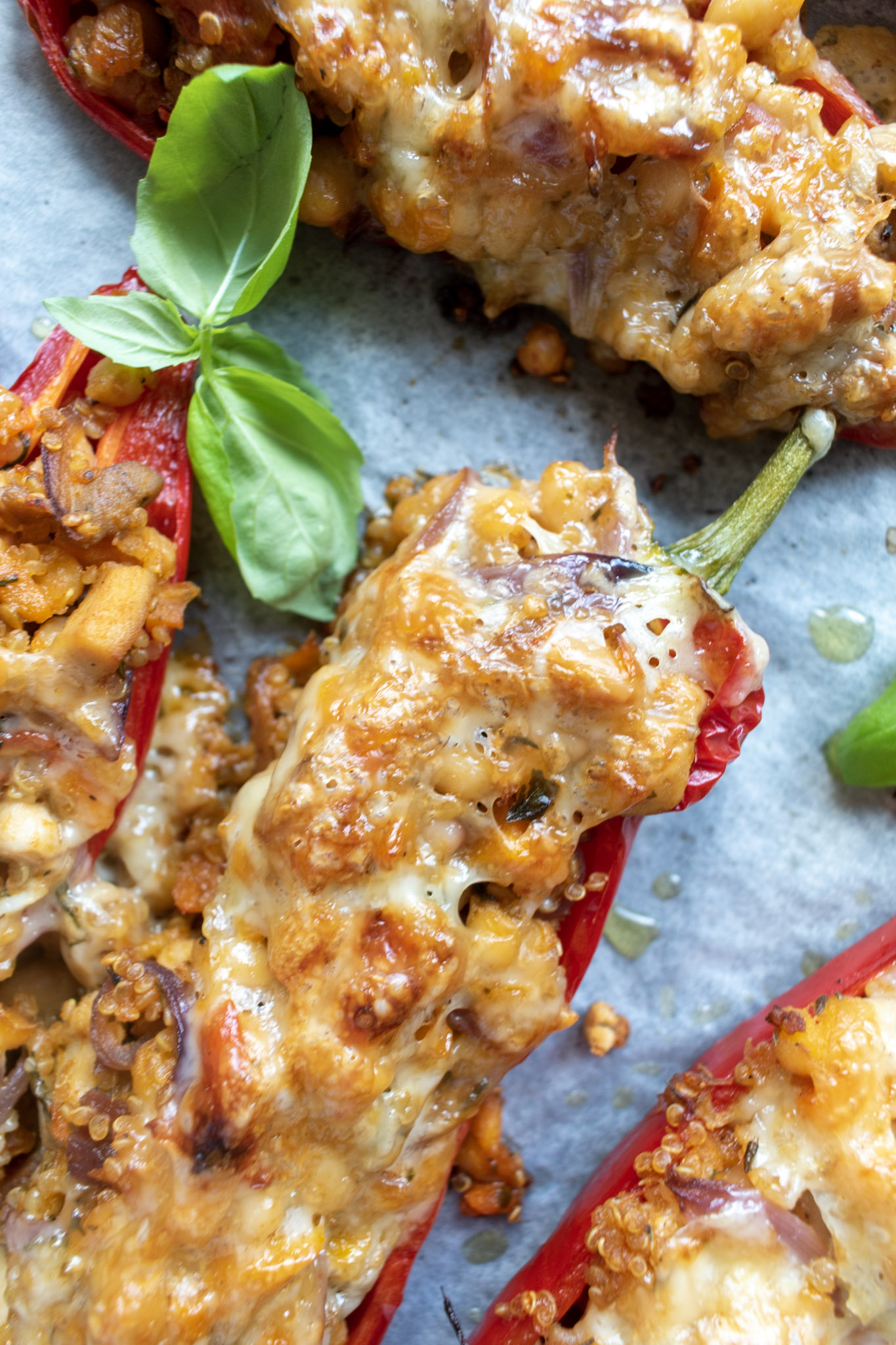 I have used long red peppers because those are my favorite. I like their sweetness. But you can use bell peppers. They are even a little easier to fill because they have a deeper stuffing area. Long red peppers are quite shallow when halved. But that way you also get more surface that provides more crunch in the end.
When it comes to beans, you can use any kind. Beans provide some starchiness and a heavier feeling to the dish. I wouldn't avoid putting those. Also, I have used canned ones that are precooked. You can be more hardworking and cook your own beans which will be healthier.
This recipe mentions cooked quinoa, a small quantity just for soaking up the juices together with beans. If you like, you can use rice or any other grain like bulgur, barley, couscous or similar.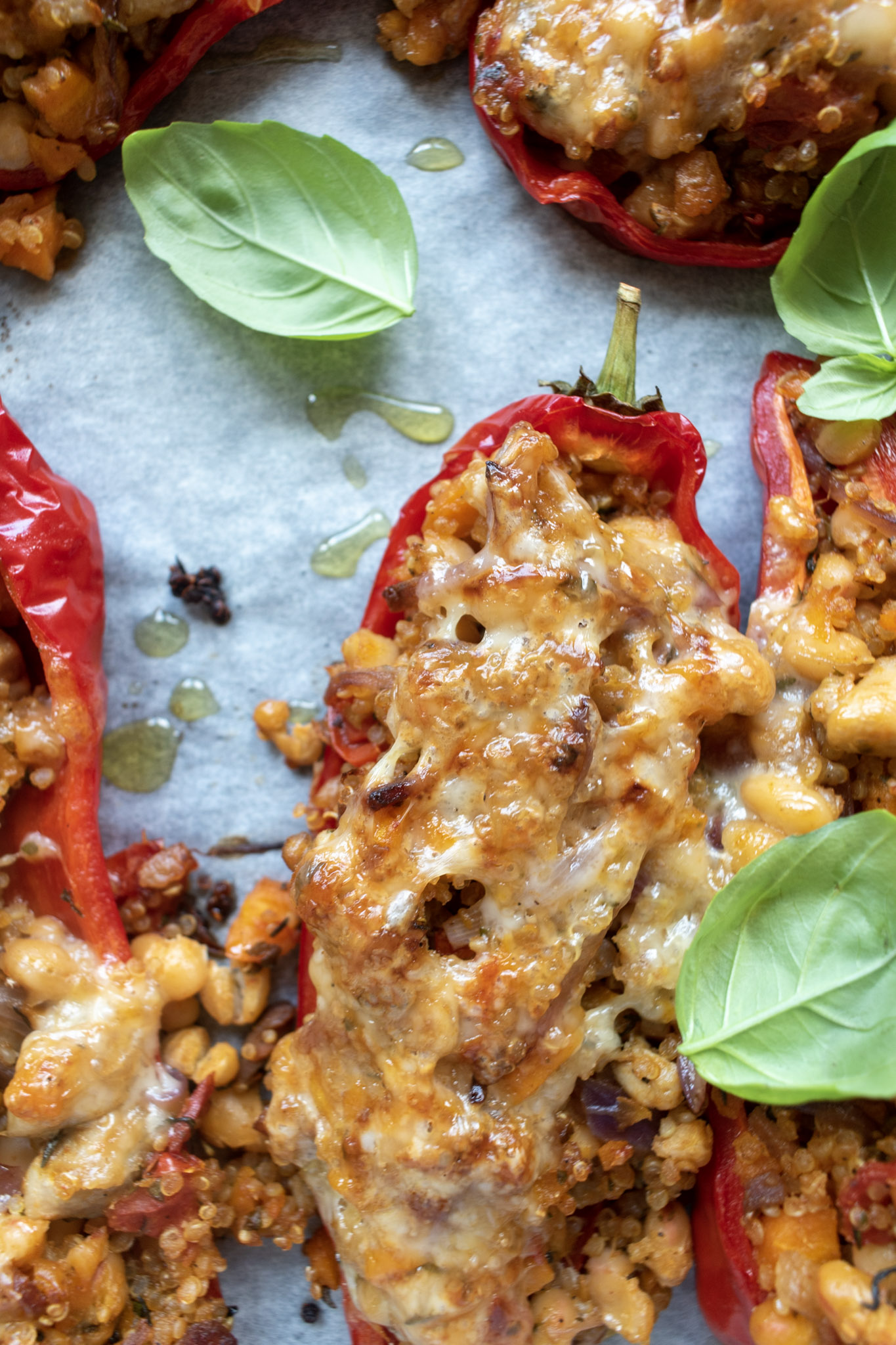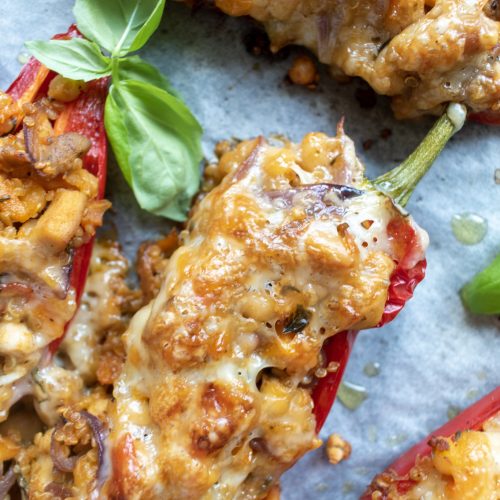 Chicken Stuffed Roasted Peppers
These peppers are easy to make, very versatile in terms of stuffing ingredients and with a super crunchy and cheesy top.
Ingredients
4

peppers

2

pieces

chicken thighs

without skin

3

tbsp

bacon cubes

1

onion

2

carrots

1

tomato

2

cups

beans

precooked

5

garlic cloves

1

cup

cooked quinoa

or rice

1

tsp

salt

½

tsp

black pepper

½

tsp

smoked paprika

½

tsp

coriander

powder

1

tsp

oregano

dried

1

tsp

thyme

dried

1

tsp

parsley

dried

5

basil leaves

grated cheese
Instructions
Prepare the ingredients. Cut bacon into small cubes. Clean and cut onion, not too finely. Cut tomato into cubes and grate the carrots. Cut chicken thighs into cubes as well.

Start off by adding finely diced bacon into the pan and letting the fat render a little.

After about two minutes, add diced chicken thighs.

Cook for a couple of minutes and then add 1 bigger onion and two grated carrots.

Cook shortly and then add 1 tomato cut into cubes.

Mince and add 4 garlic cloves, followed by adding 2 cups of precooked beans.

Season with salt, pepper, smoked paprika, coriander, dried parsley, oregano and thyme.

I have also used some fresh basil leaves. Stir and cook everything for about 5 minutes.

Add approximately one cup of cooked quinoa. You can use rice instead, if preferred.

Now it is time to stuff the peppers. Cut them in half and stuff with the filling.

Grate some cheese on top and roast on 200 degrees celsius for 30 minutes.

Serve with a side salad and enjoy.