This cobbler is the simplest and most humble dessert you can make. And boy, is it good. Just amazing. I think everyone already knows of my immense love for peach desserts, so here is another one. Go and try it because it will be done in no time. And of course – do not forget the ice cream!! 🙂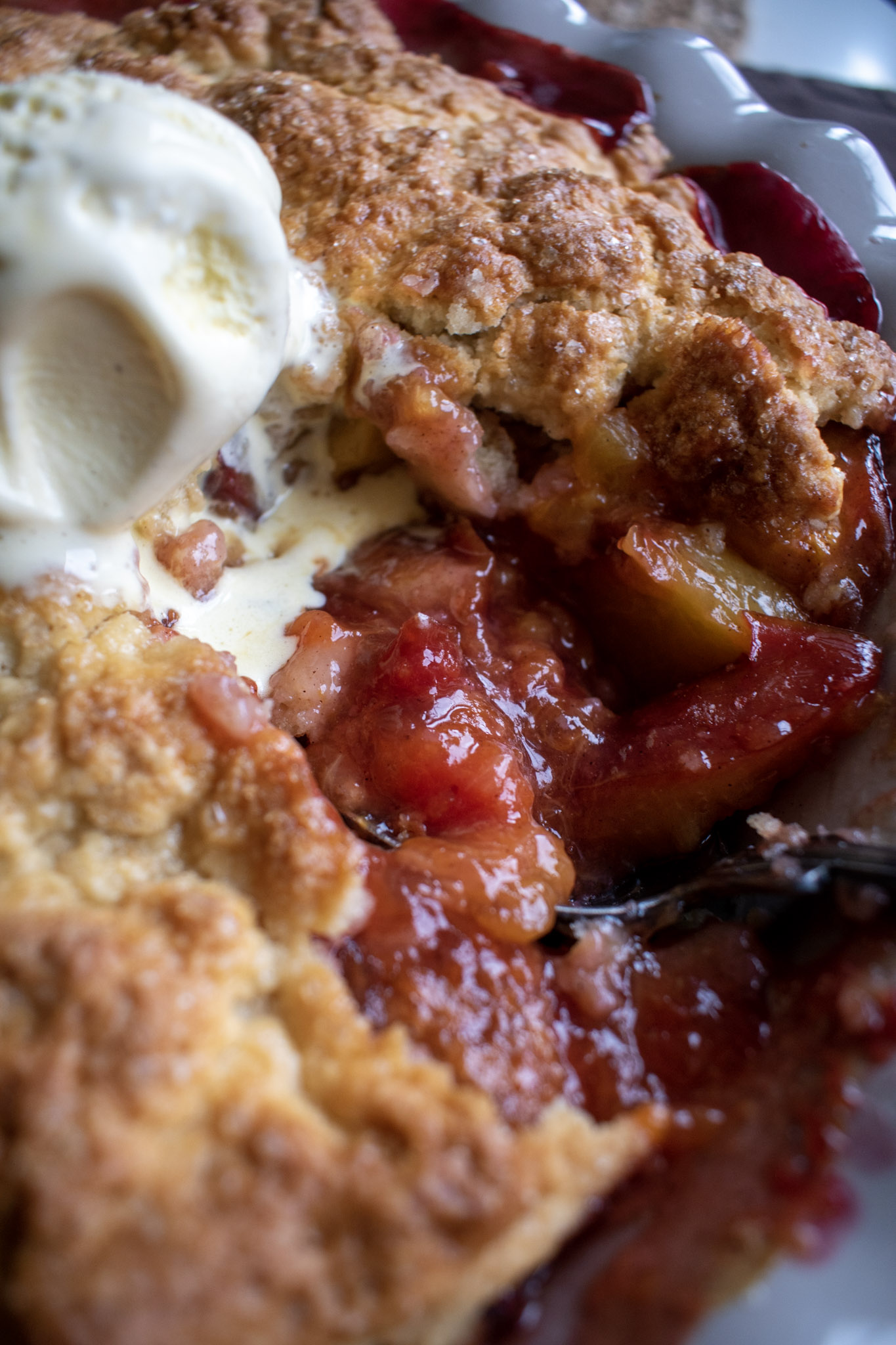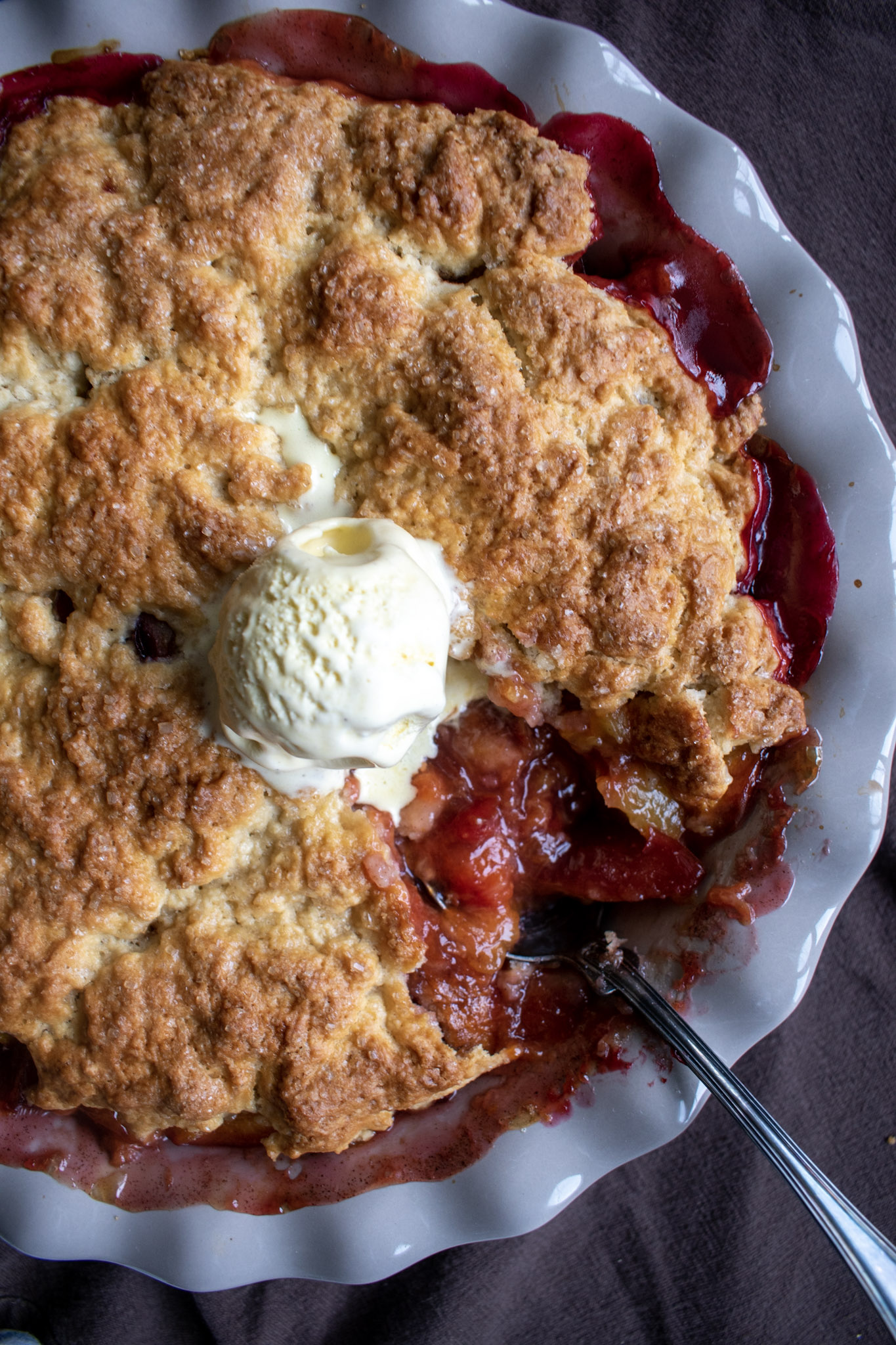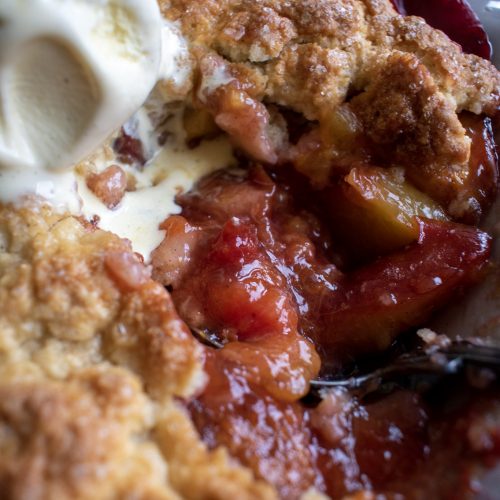 Plum and Peach Cobbler
This cobbler is the simplest and most humble dessert you can make. And boy, is it good. Just amazing. I think everyone already knows of my immense love for peach desserts, so here is another one. Go and try it because it will be done in no time. And of course – do not forget the ice cream!!
Ingredients
For the filling
1

kg

peaches and plums

2

tbsp

cornstarch

1

tbsp

lemon juice

3

tbsp

sugar

to add when you cut the fruit and let it sit for an hour

3

tbsp

vanilla sugar

or 3 tbsp powdered sugar plus 1 tsp vanilla extract

1

tsp

cinnamon
For the dough
200

g

flour

3

tbsp

vanilla sugar

or 3 tbsp powdered sugar plus 1 tsp vanilla extract

1

tsp

baking powder

¼

tsp

salt

70

g

butter

70

ml

buttermilk

buttermilk for coating and sugar for sprinkling
Instructions
Take approximately one kilogram of peaches and plums. Cut them in quarters, add a little sugar to them and let them rest to soften and release juices.

After about an hour add cornstarch to the fruit to soak up all the sweet juices, add a little bit more of brown sugar and vanilla sugar, squeezed lemon juice and cinnamon. Combine well and transfert into a pie dish.

Prepare the dough that is going to be used on the upper surface only.

Combine all-purpose flour, sugar, vanilla sugar, salt and baking powder. Mix together all the dry ingredients.

Add butter to them and combine it with your hands until you get a sand-like texture

Now add some buttermilk and prepare the dough. If the dough feels too wet, feel free to add a little more flour.

I always prepare buttermilk by using regular milk and adding a tbsp of vinegar to it. Just let it sit for 5 minutes and its done.

When your dough is ready, spread it over the plums. It is supposed to be messy so dont bother making it flat and perfect. Small holes will let the jammy plum filling bubble out while baking

Coat with some buttermilk and sprinkle with sugar to get that extra crispiness.

Bake in a preheated oven on 180 deg Celsius for 55 to 60 minutes, or when the dough is crispy enough.

Serve warm and dont forget a scoop or two of vanilla ice cream!