Who doesn't like a good chocolate cookie?! I don't think such people exist, to be honest. Chocolate cookies eaten on their own or even better, dunked in milk, provide you a next level experience. I connect these with cold weather, warm feeling under the blanket, hot cup of coffee, milk or hot chocolate and a movie.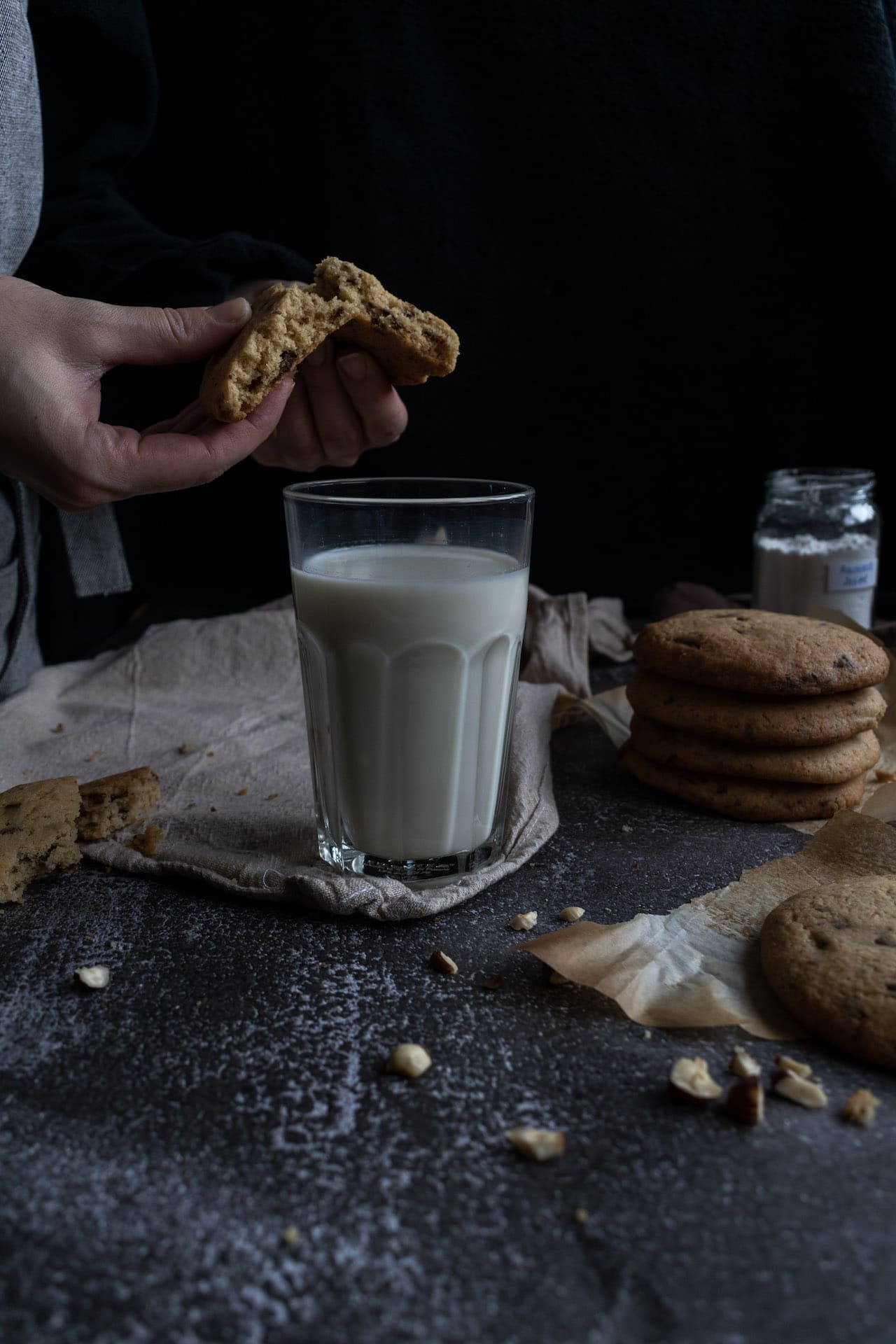 How to achieve crunchiness
Regular chocolate cookies can be improved by adding something crunchy into the batter. My favorite addition are always toasted and roughly chopped hazelnuts, but you can use some other nuts, of course.
But I would emphasise toasting the nuts in a hot pan for a couple of minutes, it enhances natural nut oils to release and enrich the flavour. So, do not skip that part if adding nuts.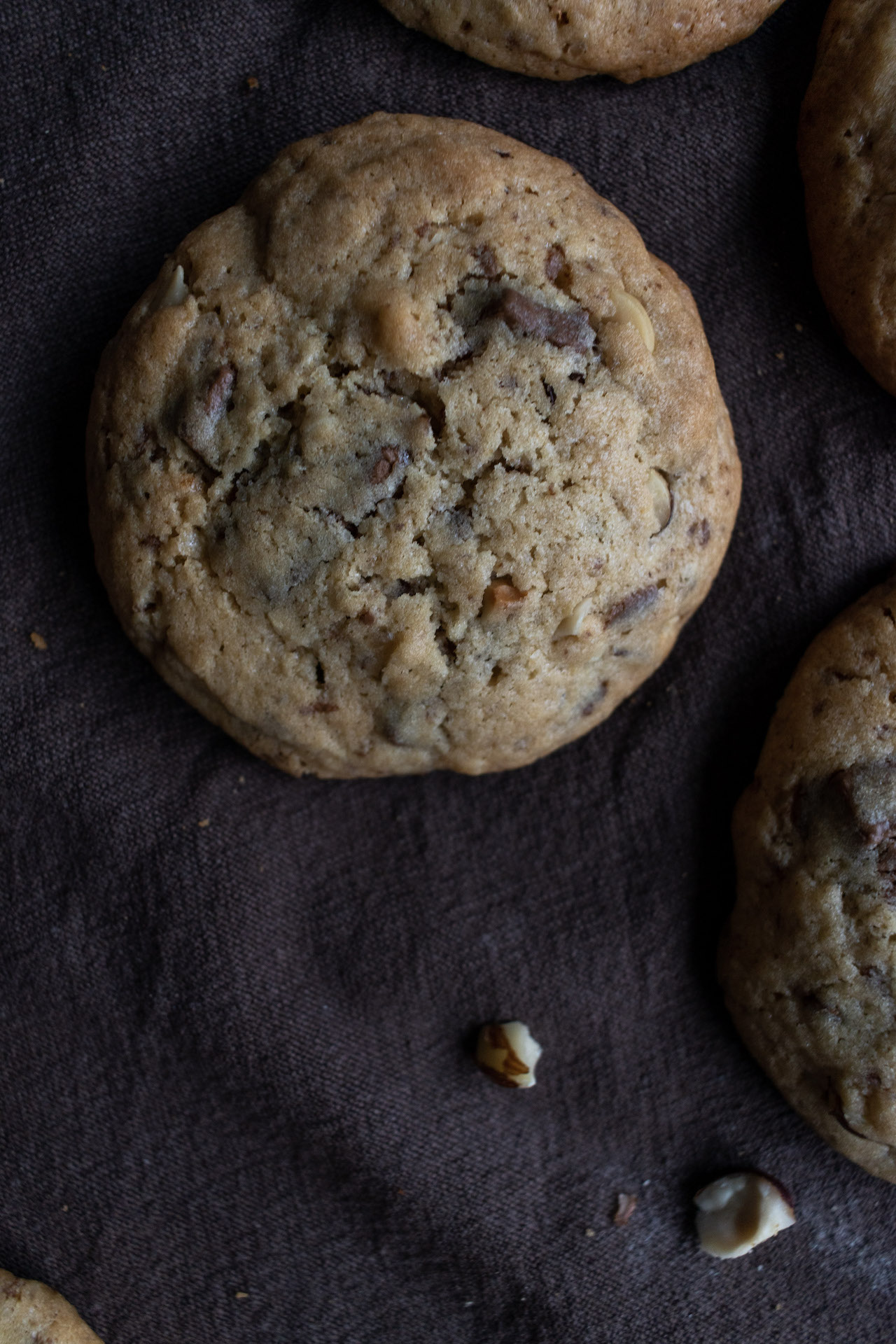 How to make the cookie batter
Start off by weighing all of the ingredients. I find preparation being one of the most important steps in every cooking or baking process.
Combine your dry ingredients: flour, baking soda, baking powder and salt. Set it aside for later.
Chop your chocolate into chunks to have it ready for later. You can use chocolate chips if you prefer.
Mix butter with brown and granulated sugar until fluffy. It's much easier when done with a stand mixer, but it can surely be done with a hand version as well. When your butter mixture is creamy and fluffy, add one egg at a time. Allow it to mix in nicely and then add another one together with vanilla extract .
Now it's time to add dry ingredients that you've previously combined together. Incorporate them into the batter gently. I like to do this part with a spatula because it is much more controlled that way and I don't want to develop the gluten. So, I recommend that you take a silicone spatula and incorporate it nicely and evenly.
When that is done, add chopped chocolate and hazelnuts if using. Incorporate those two into the batter gently and evenly.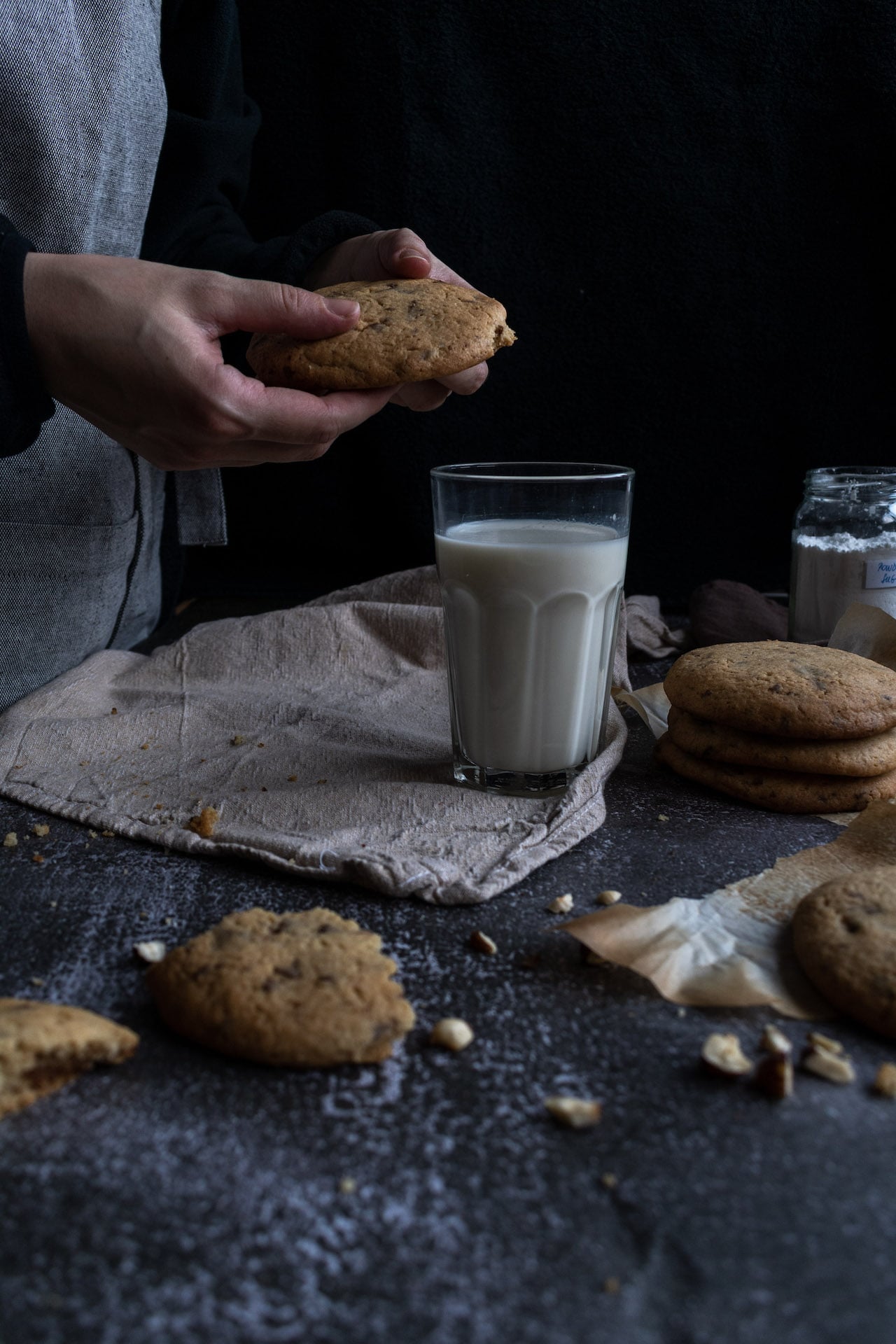 Which size to make
Now it's time to shape the dough. This dough doesn't need to sit in the fridge, you can use it right away. Thats the thing I like about these cookies, If you decide making them, you can literals be eating them in half an hour or 45 minutes.
When it comes to choosing the cookie size, kids will like giant chocolate cookies. They are both, fun to make and to be eaten.
I must say I prefer regular sized cookies, but this decision is totally up to you.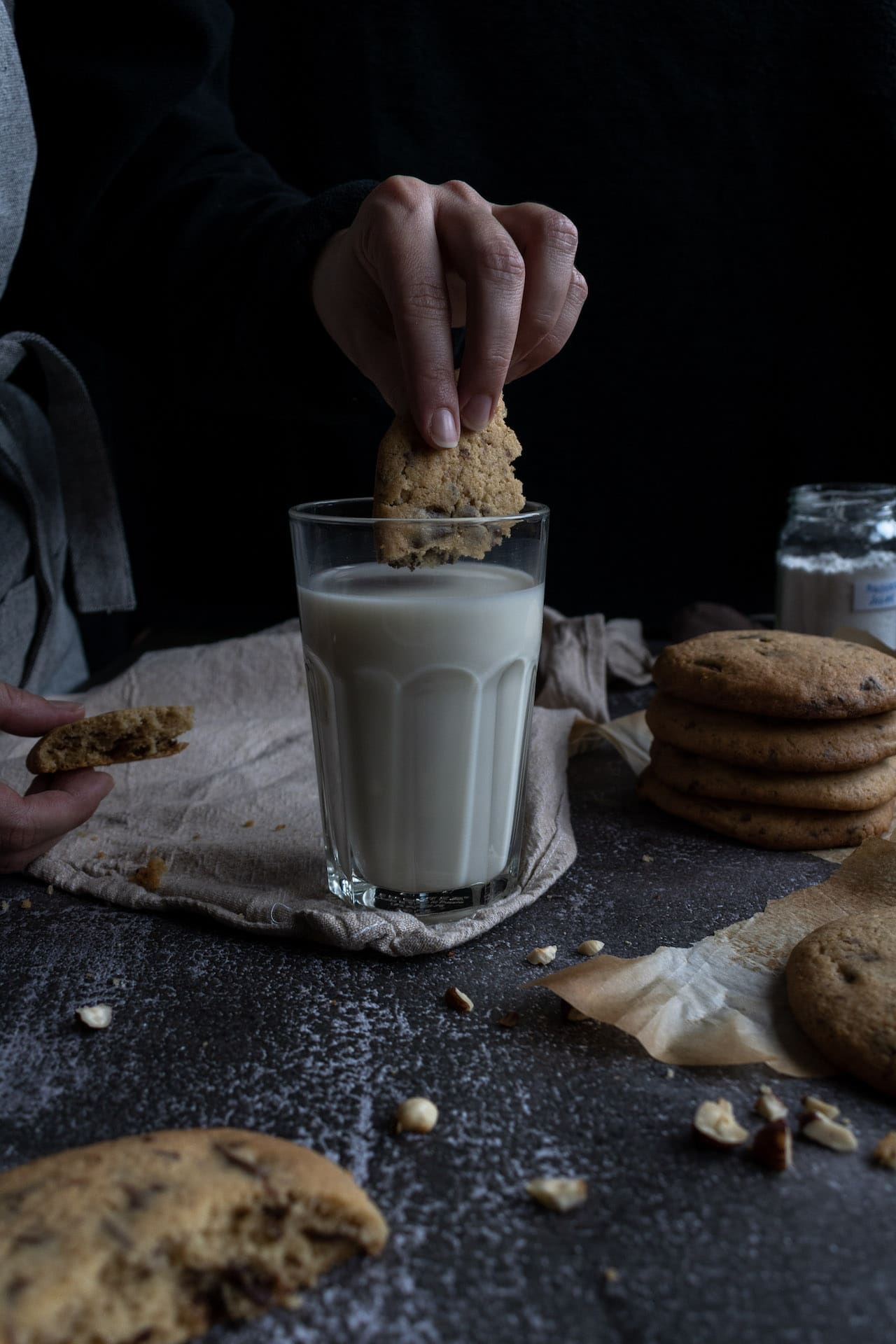 Weigh your batter
In order to get uniformed cookies, I advise you to weigh the batter. If I am making giant cookies, I will make balls of 100 grams. And if I am making regular ones, each one will weigh 50 grams.
Arrange your cookies on a baking tray. UI recommend using parchment paper. Make sure to give them enough space to spread because they do tend to spread a lot during baking. If you are making giant ones, bake 6 cookies at once. If making regular ones, double the number.
Chewy or crunchy cookies
Bake the cookies on 190 degrees Celsius or 370 Fahrenheit for about 15 minutes, depending on your oven and preferences. If you prefer more moist and chewy cookies, bake less. If you're a crispy cookie type, bake a little longer.
I love seeing chocolate cookies in a jar on my kitchen counter. You can have them stored in therefor two to three days, but trust me, they wont last that long.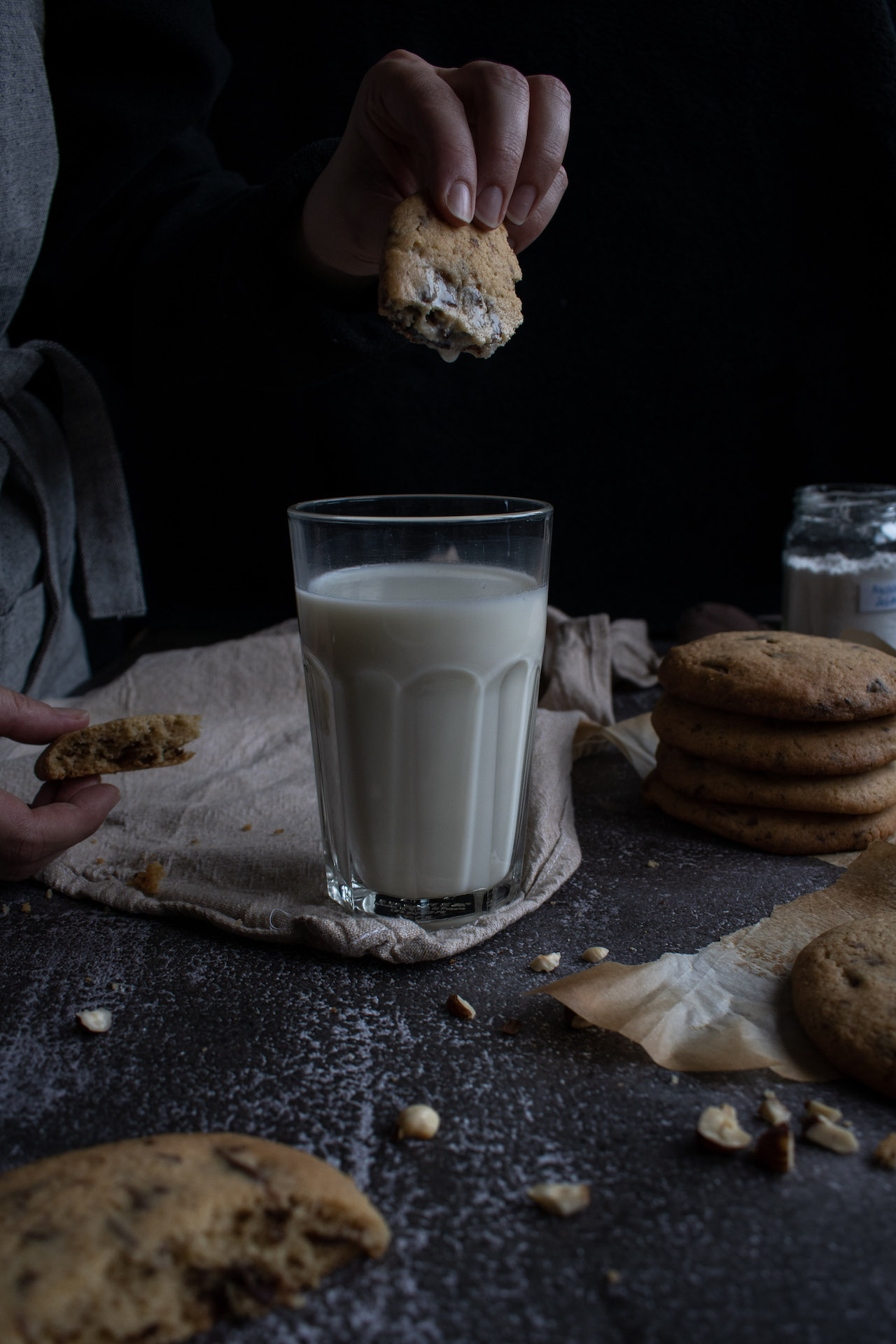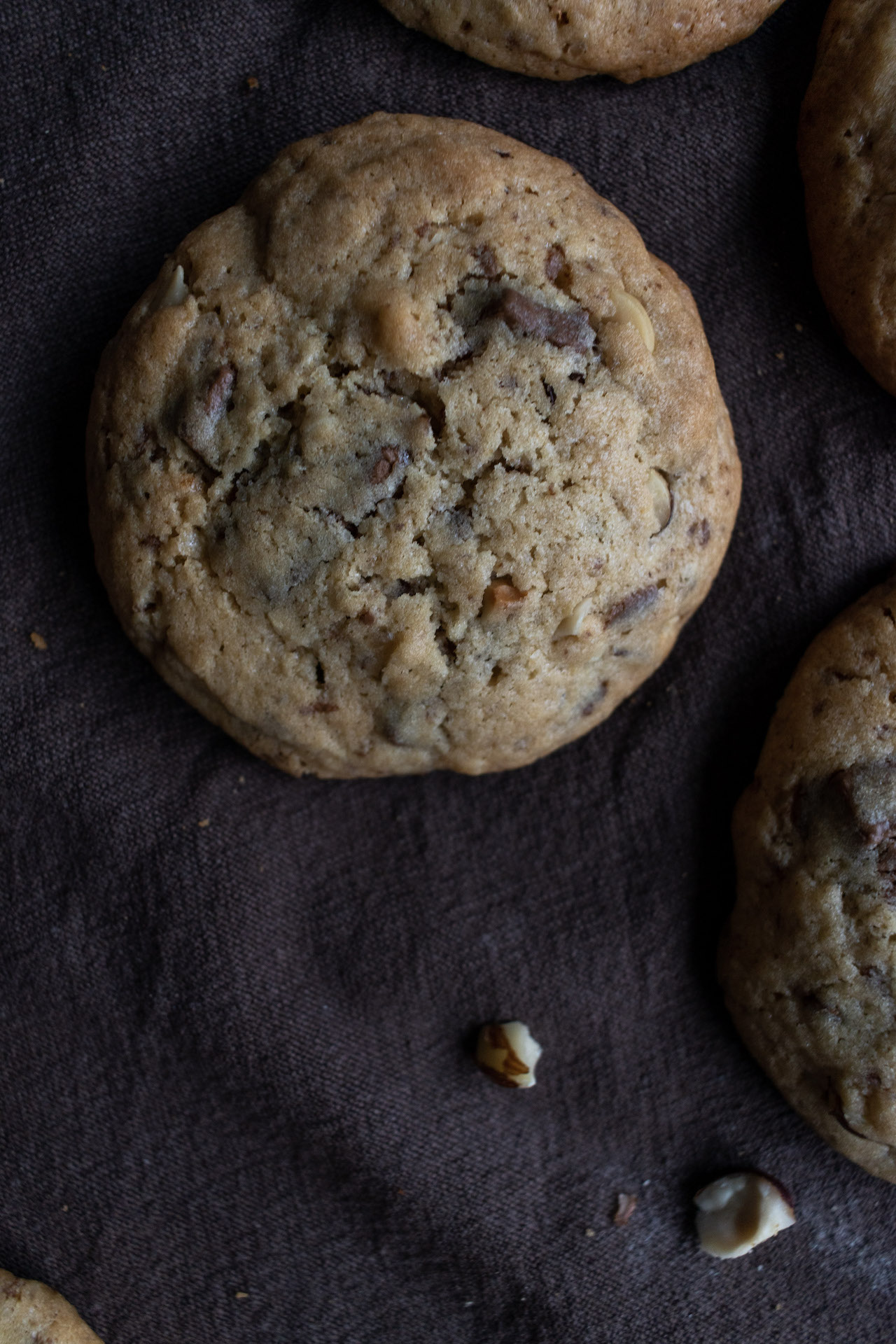 Giant chocolate chip and hazelnut cookies
These chocolate cookies are really fun to make, especially with children, because they adore these big sized cookies. You can, of course, make these in regular size as well. Feel free to play around with additions, such as chopped hazelnuts. I recommend eating these with a cup of milk.
Ingredients
380

g

flour

13.4 oz

130

g

sugar

4.6 oz

100

g

brown sugar

3.5 oz

1

tsp

salt

1

tsp

baking powder

1/4

tsp

baking soda

220

g

cold butter

7.8 oz

2

eggs

2

tsp

vanilla extract

300

g

chocolate chunks

10.6 oz
Instructions
Mix butter with sugars until fluffy. Next, add one egg at a time. Add vanilla extract and mix until nicely combined.

Now it's time to add dry ingredients that you've previously combined together. That's flour, salt, baking soda, baking powder.

Incorporate them gently. I like to do this part with a spatula.

When combined, add chopped chocolate and hazelnuts if using. Incorporate evenly.

Prepare a baking tray. I like to weigh the batter so that I get uniformed cookies, 50 g each. Or 100 if you wanna make the large ones. Arrange the cookies on a baking tray and give them enough space as they spread a lot during baking.

Preheat the oven to 190°C of 370 F. Bake them for about 15 minutes.