One of my favorite things about fall is squash. Next to pumpkin spice, all kinds of pies, warm smells of cinnamon and cloves, vibrant colour palette of the nature, warm blankets and cups of tea.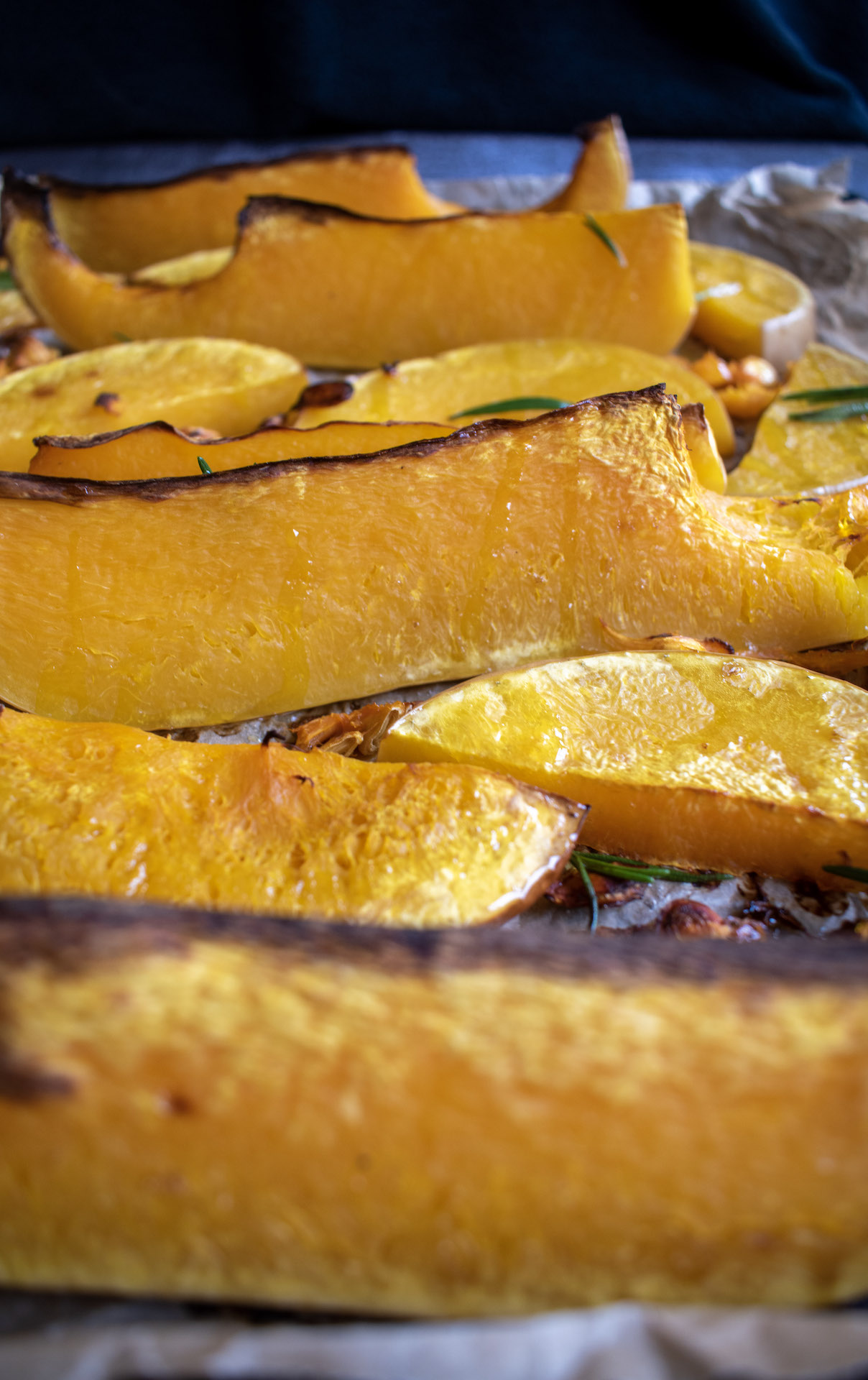 Squash is so versatile. Humble, but provides amazing flavours and aromas. You can make risotto with it, ravioli, pies, muffins, soups, stews… Combinations are endless.
I have decided to make a soup this time. I am a big fan of cream soups and this one is my favourite. It is so comforting and pleasing, full of flavour. It warms up the soul. You wont regret trying it, trust me.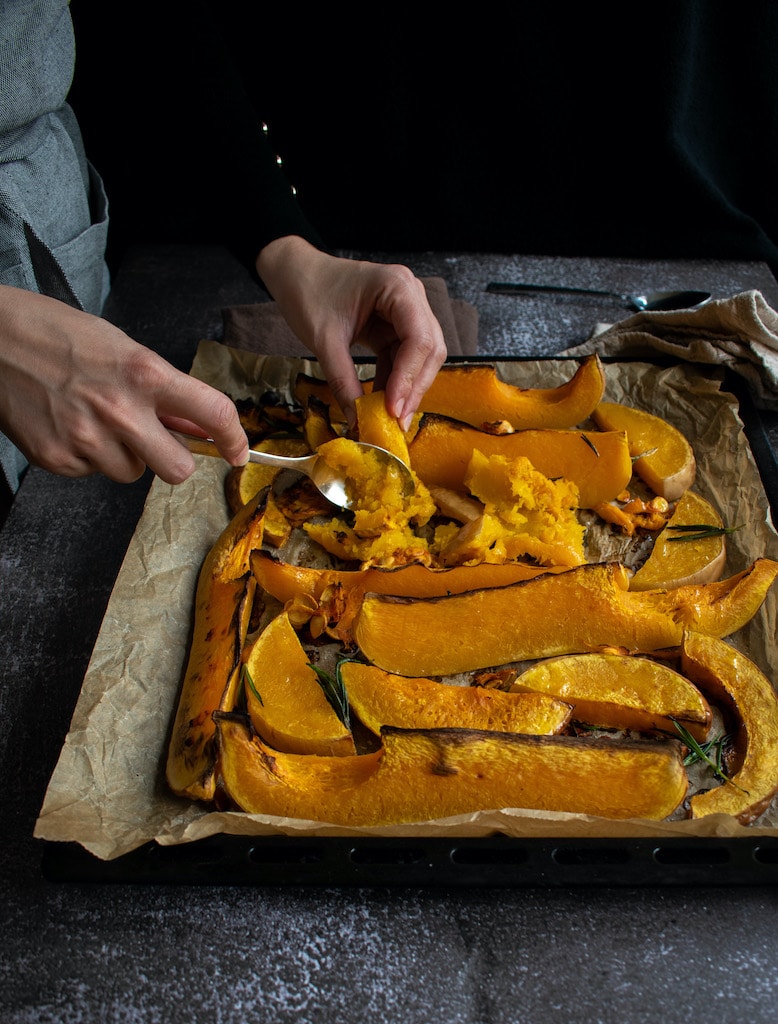 Roasting Butternut squash
Butternut squash is very easy to work with, it is quite soft and therefore, cooked quickly. I especially like its sweet flavour and versatility when it comes to use.
You can easily find canned, pre-made squash pure, but making it on your own is so much better. Better flavour and more joy to it. Making something from scratch with your own hands is pretty rewarding.
You can choose to steam the squash or to roast it. If you have time, I recommend roasting. Caramelised parts are those that give the flavour. Also, feel free to add herbs of your liking.
Once roasted or steamed, squash should be pureed and used or stored. If you are not planning to use it instantly, feel free to put in into the fridge for a couple of days of freeze it for up-to two months. In this case, I prefer not to season it because that way you wont restrict yourself ways of using it in the future. For example, if you have added thyme, salt and pepper, you will hardly be able to use it in a dessert. And we all know how good are squash desserts.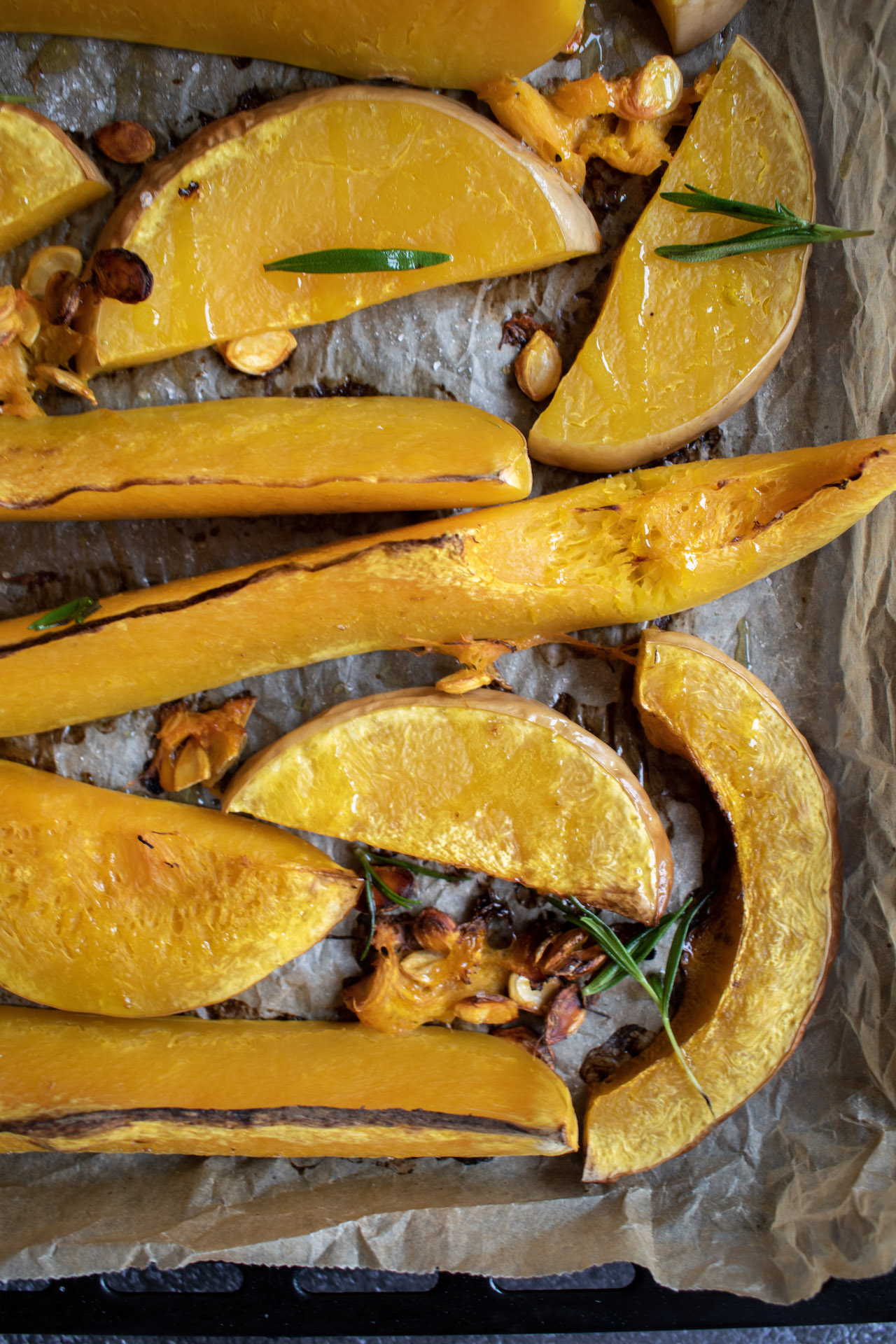 Preparing the soup
Basics of preparing any cream soup are pretty much the same. I always start by sautéing finely chopped shallots and garlic on olive oil, together with some fresh herb. Next step is adding desired vegetables and stock.
Vegetables should be properly cooked, or in this case, just brought to the boil. Squash is already cooked so there is no need for additional cooking. A couple of minutes is enough, just for flavours to combine.
Getting a silky smooth soup texture
Once the vegetables are cooked through, they must be separated from the liquid phase and blended. Take care not to throw away the liquid, you are going to need it.
To achieve that silky and smooth texture of soup, it is crucial to pass blended vegetables through a fine mesh sieve. That way all the lumps will be removed. you should add some cooking liquid at this point, in order to get it through the sieve more easily.
Bring sieved vegetable pure in a clean pot and add some cooking liquid. Put it on a stove, medium high heat, and bring to a boil. At this point add enough liquid to achieve desired consistency of the soup.
Finally, add creme fraische and season to taste.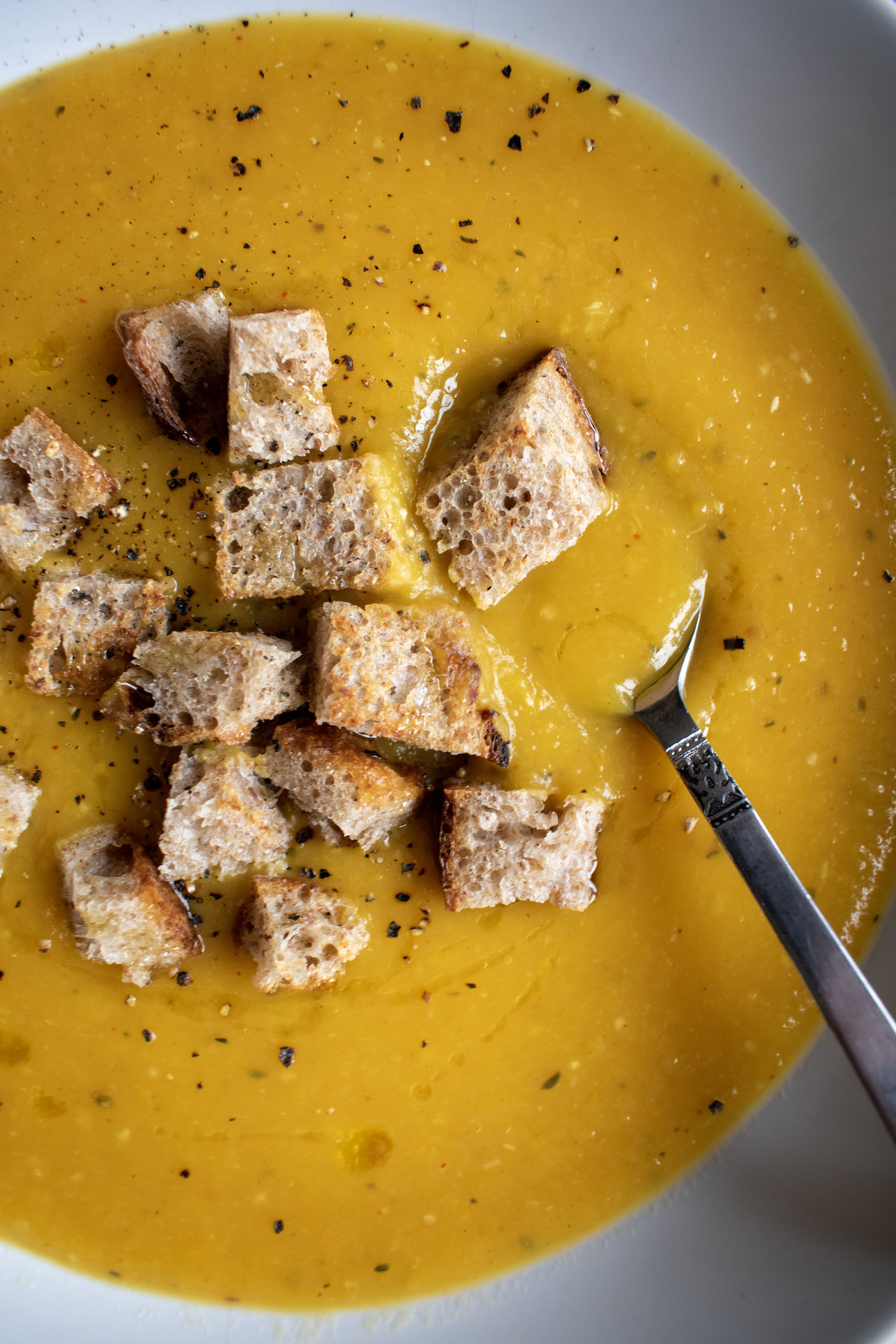 Additions
I find adding crunchy toppings on top of the soup an absolute must. It enhances the whole eating experience. Since soup is so soft and smooth, it is nice to bite into something crunchy, maybe spicy or sour.
Some of my favorite additions:
croutons
chopped toasted nuts
chopped fresh herbs
chilli flakes
sour cream
olive oil
freshly cracked salt and pepper
Making croutons
I recommend making croutons at home instead of buying them at the supermarket. The procedure itself couldn't be easier.
All you need to do is cut bread into cubes and either dry them in the oven or what I like to do lately, I find it quicker – just put them in a pan and heat them for about 10 minutes, they will become crispy. Add a little bit of oil oil as well. And that's it, couldn't be more simple, right?!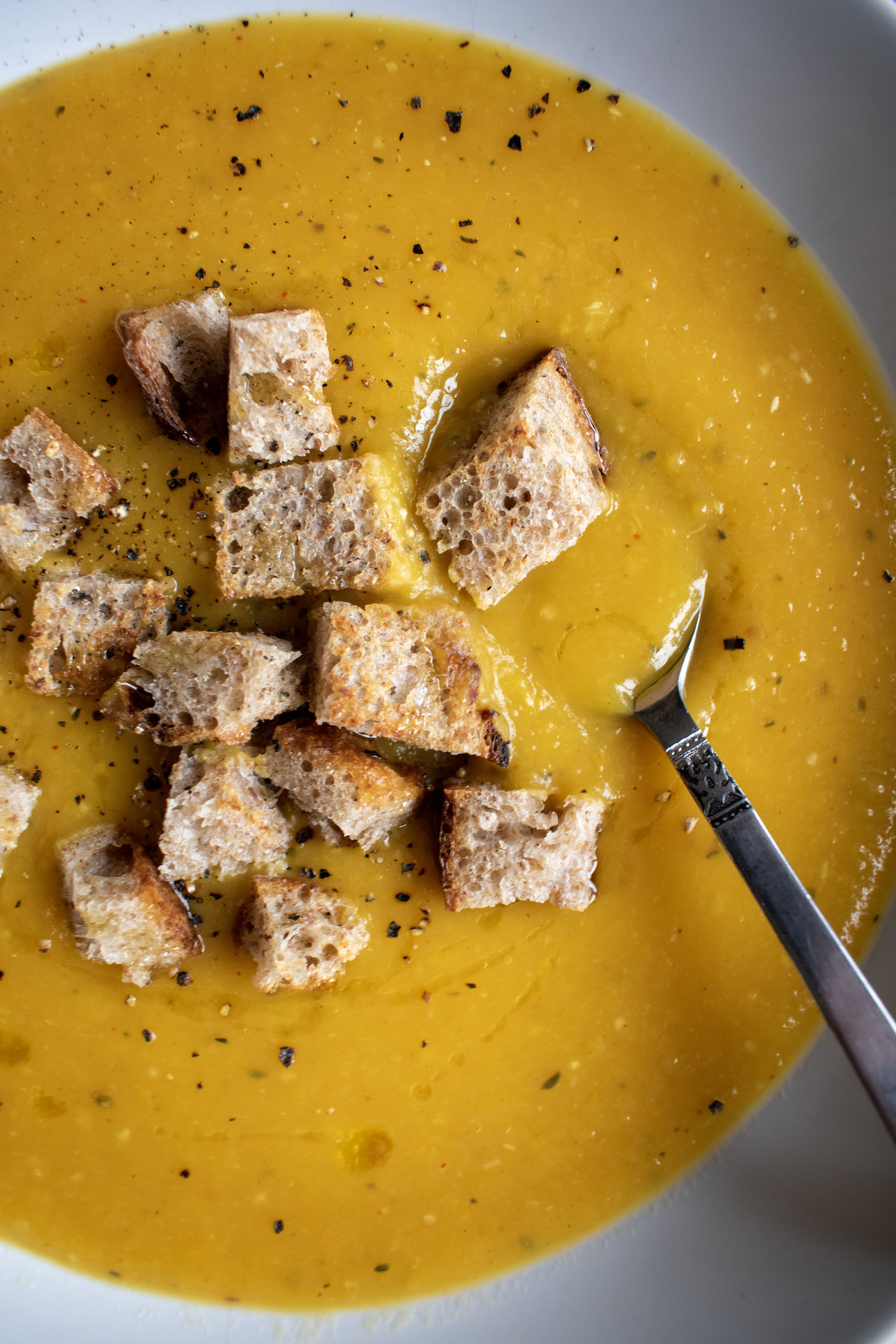 Creamy Butternut squash soup
Squash is so versatile. Humble, but provides amazing flavours and aromas to dishes. This soup is so simple to make and yet so warming, pleasing and comforting.
Ingredients
1

butternut squash

medium sized

1

shallot

2

garlic cloves

2

bay leaves

4

cup

vegetable stock

approximately

1

tbsp

creme fraiche

fresh or dried thyme
Instructions
Cut squash into slices and roast in the oven until tender (about 20 min). You can steam it as well if it's easier for you. After it's done, remove the skin and mash with a fork.

Sauté one shallot and garlic on a bit of olive oil together with herbs. When done, add in mashed squash and a bit of stock. Bring it to a boil and simmer just for a couple of minutes to combine.

Now it's time to blend it well and mash through a sieve to remove any remaining chunks.

Bring blended mixture back on the stove and add more stock. Keep adding until it reaches desired thickness. Now add creme fraiche and season to taste.

For best experience, serve with croutons.